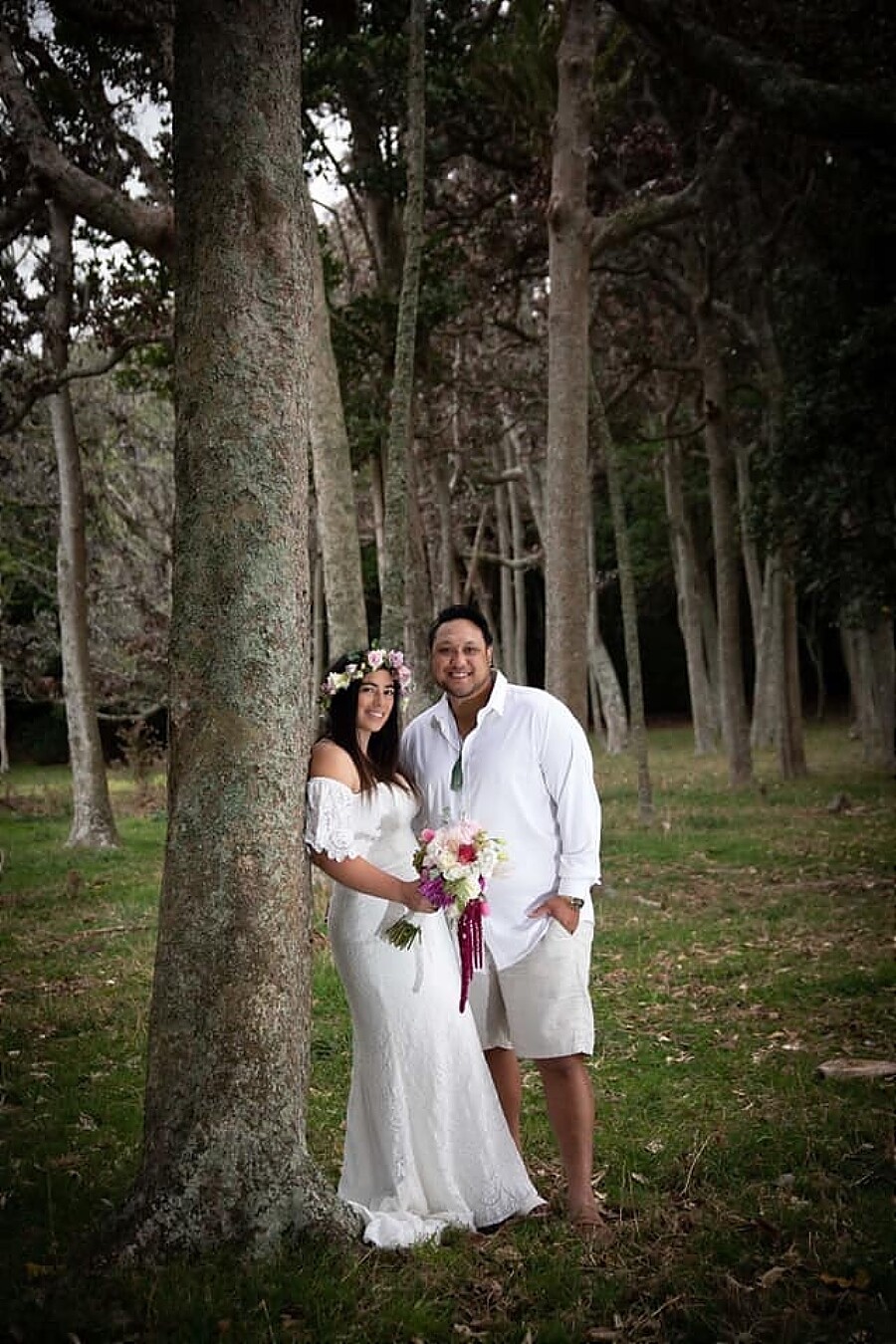 Real Weddings is the story of one of our wonderful brides. Janina was the winner of our 2020 Bride of the Year competition.
The COVID-19 – Level 4 lockdown ruined Janina and Kohatu's plans for a big family wedding, so they opted for an intimate DIY wedding in their own backyard. Just by looking at the photos we can see what a special day it was. It just goes to show true love can't be cancelled or locked down.
This is Janina's story…
My best friend was up from Wellington for the weekend. We only had the Saturday to find my wedding dress and it was my very first opportunity to hit the shops. We spent the day zigzagging across the North Shore and Auckland CBD. There was nothing close to what I liked and some appointments really put the pressure on to make a quick decision. By the afternoon, I was ready to call it quits for the day but we had one more shop to go to, Ballgowns, Bridal & Beyond.
When we parked up at BBB, Ange recognized it as the shop she had bought her wedding dress from about ten years ago. We had a good feeling about this one! As soon as I walked in the door, Nadine greeted us with the biggest smile and made us feel welcome straight away. Then the music I was planning to walk down the aisle to started playing on the radio ('Hills and Valleys' by Tauren Wells)! Within a few minutes, I'd found my dress, or I should say the dress found me. It was definitely not what I had in mind but once it was on I knew it was the one. And that's how I found my beautiful dress.
My experience at BBB was head and shoulders above every other store I visited in my quest to find my wedding dress. I wish I had started my mission here. Firstly, Nadine and her lovely ladies were all so welcoming and kind. Their genuine smiles and friendly chatter made me feel at ease. Instantly, I knew I was in good hands. I had some inhibitions around my curves and these ladies just blew them all away. They were super-helpful and once I had chosen my dress, they went above and beyond to accommodate my alterations and answer all my questions. There was no pressure at any point to make decisions. I would highly recommend BBB to any bride looking for a stress-free wedding-dress hunt experience.
Covid cancelled our big out-of-town March 28th beach wedding. Dreams shattered but Lockdown slowly revealed what was truly important. So we stripped it all back. Five weeks later we had the most magical day of our lives making our vows in our own backyard. It was an intimate, relaxed party of ten. We picked our beautiful flowers from local farms and gardens. Hubby made the arch and my flower crown. I arranged the bouquets and floral. My daughter did my hair and makeup, my uncle married us, a friend took photos, then it was fish'n'chips, jarmies and a movie.
Kiwi-as. DIY. Fun. Just perfect.
Vendors:
Photographer: Sean McCabe (friend)
Venue: Our backyard in Waiuku
Dress: Ballgowns, Bridal and Beyond
Groom's Attire: Hallensteins
Bridesmaid dress: Evolution Bridesmaids
Boys & Flower girl: Farmers
Pounamu: West Coast Jade
Macramé: Yumi Whittington
Ring box: Trade Aid
Cake: Sugar Shed in Pukekohe
Wagon – Mitre 10