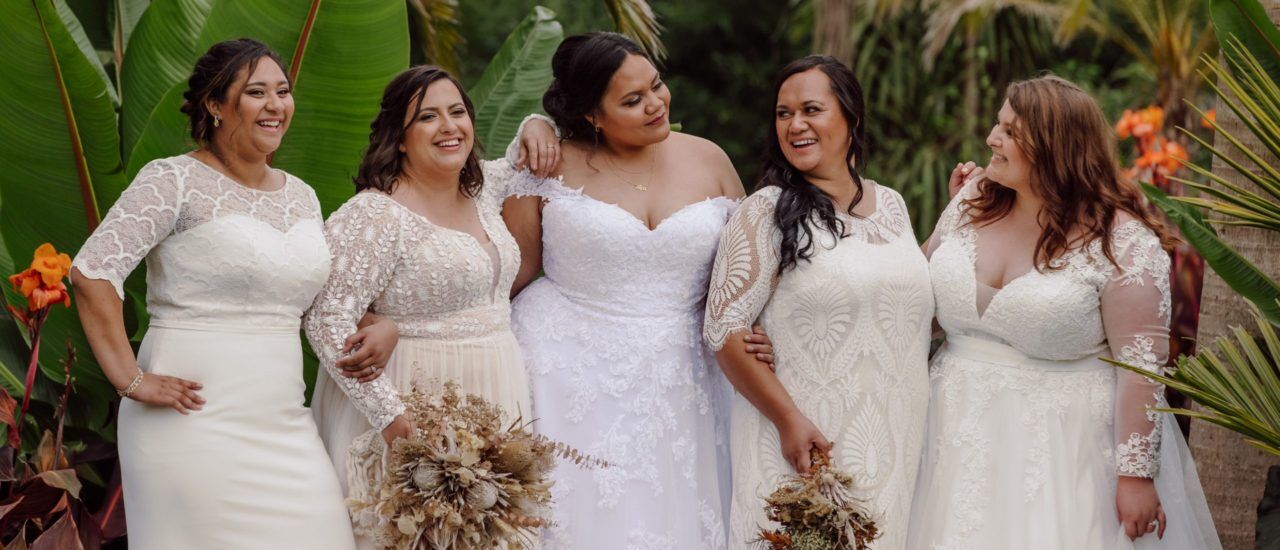 An interview with the owner of Ballgowns, Bridal & Beyond and the face behind Project Curves – Nadine Crozier.
So Nadine, tell us, what is Project Curves?
It all started out with us wanting to become specialists in plus size Bridal & Special Occasion wear. But since I'm not the kind of person to just slap a label on myself without first earning it a friend suggested that we run a focus group of sorts. So via social media we invited plus size Brides to be to apply and from those we selected 5 ladies of different shapes, sizes and ethnicities to join us on what turned out to be a 7 month journey. We had planned for it to be shorter but the COVID lockdowns extended things a little.
Why the desire to focus on the curvier figure?
Well for me it's really a combination of things. I've been in the wedding industry for about 14 years now, first as a wedding planner and stylist and now as the owner of Ballgowns, Bridal & Beyond. I strongly believe that your planning experience should bring just as much joy and be just as much fun as your actual wedding day, and this should absolutely include your gown shopping experience. It just got to the point where we had seen way too many brides arriving on our door step either in tears or feeling so nervous they looked ill because of the negative experiences they had, had elsewhere. To me and my team, that is just not okay!
The other reason is more personal. I am a plus size gal myself, have been for most of my life. I grew up facing all the challenges that most plus-size women do, accept I had one thing most plus-size women don't have. I had a style & image coach for a mother. She taught my sisters and me how to use clothing and accessories to bring balance to our figures. We learnt to camouflage our figure challenges and highlight the points we loved.
I think that when you look good, you feel good – which helps your life to be good. It's that sense that 'everything is good' that we want our customers to experience when they visit BBB.
Working in the plus-size sector is not without its controversy, what do you say to those who accuse you of promoting unhealthy living?
Well I'd tell them what I told our Project Curves' brides when we began the journey. Project Curves is not about weight loss – if that is some you are ready to pursue that is totally fine, but the purpose of this project (and of BBB) is to help you accept their body as it is and make it work for you. This is so you can have the confidence to celebrate your special day without anything holding you back.
Once you have confidence and are in the best frame of mind then you are in a far better position to make other healthy life choices. People shouldn't have to put their life on hold, or be ostracised because they haven't reached that part of their life's journey yet.
That's good, so let go back to the project itself. What kinds of things did this involve?
Well I really wanted to get a sense of what plus-size brides have to face out there and what they would like to see change in the NZ Bridal Industry. So our very first gathering was at the Grand Windsor Hotel over High Tea. I had lots of questions. They had lots of answers. It turned out that 4 out of the 5 brides had already visited our store so were able to give honest feedback on how well they thought we had done. It was encouraging to learn that they felt we already ticked many of 'the boxes' for them. The main thing we were lacking in was not enough sample gowns for plus size brides to try on. Something we have since been working on.
The next step was all body shape and gown design. Over the years I have met many people who seem to believe that once you reach a certain size the only gown silhouette you can successfully wear is an A-line. But I have always maintained that this simply isn't true. Rather, it's all about finding a gown with the proportions that best complements your own. So to explore the science behind this we partnered with Colour & Style Coach, Marion McEwing (aka my Mum). After a series of measurements and the use of some fancy software, we were able to determine the numerous gown features that suited each of the Brides.
I think we were all surprised by just how many options could actually work. The Brides loved that they could feel confident to try things they wouldn't even have considered before and it revealed to me the gaps we had in our gown selection.
With all this information in hand, I worked individually with each bride to come up with two gowns that they would eventually wear in our photo shoot finale, and potentially even on their wedding day. This was a lot of fun. Most of these styles are now on part of our collection and are available for other brides to try and buy. But since our gowns typically take around 3 months to be made we had some waiting to do. But I saw this as a great chance to fit in a few other fun activities and learning opportunities. 
Perhaps the most memorable was our visit to Avokado, a lingerie and swimwear store for women with bigger boobies, based in Newmarket. It is often underestimated how much of an impact our undergarments have on the look of our outer garments – so I wanted to make we included this in the Project. Michelle and the team are as passionate about bras as we at BBB are about gowns. So much was learnt that night, not to mention a bit of shopping.
Even though the second COVID lockdown had cause some delays, we eventually came to the day of our big photo shoot. The weather was perfect and we were so fortunate to be able to partner with a team of incredible vendors.
Lara from Soul Sisters Photography not only took incredible photos she was truly the perfect person to put the Brides at ease for what was a very long day.
We also had the extremely talented Charlie McLean doing the hair & makeup. This lady is a legend – 5 brides in one day! Most Hair & Makeup artists would shy away from a challenge like this, but she pulled it off and our Brides looked absolutely stunning.
Last, but by no means least, was Rent for Events. Donella's props and location added the perfect finishing touches to this shoot. It felt like we had been whisked away to some tropical destination, when all the while we were tucked away just off the main road in Kumeu.
As for the rest of the story I'll leave that to the photos and the Brides themselves to tell.
So now that Project Curves has come to an end, what's next for BBB?
Well first things first, I think we are now allowed to call ourselves plus size bridal specialists. We will continue to offer exceptional service to people of all shapes and sizes, after all 'Every Body is Beautiful'. But we will also continue to make improvements.
As mentioned earlier, something we have been working on is the number of plus size wedding gown samples we have in store. We have already more than doubled the number of sample gowns we have in the size 20+ range. These currently go up to a size 30 but eventually we would like to extend our sample range up to size 36, maybe even higher.
Among the new gowns are 3 new designers who all have the same love for curves as we do. I am particularly excited that their sizes go up to a size 40 plus.
Another plan is to offer brides their own Project Curves experience. The details for this are still being finalised, but if you can't wait you're welcome to email us with your interest to info@ballgownsbridal.nz .
And we also have a few other ideas we'd like to implement but it's too early to share any of these details.
Thank you Nadine for sharing with us today. For more of a 'behind the scenes' look at Project Curves check out their Instagram highlight reel.  
As a size inclusive store, the team at Ballgowns, Bridal & Beyond warmly welcomes all Brides-to-be to come and see for themselves what makes them different. Appointments are preferred and can easily be booked through their website www.ballgownsbridal.nz
Nadine is also available to the media for further interviews on Project Curves as well as all other things Bridal. Simply email info@ballgownsbridal.nz with your enquiry.